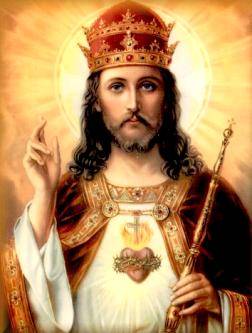 this is a religious post.
i have good church days and bad church days. a bad church day means i attend the mass but half of the time, i'm actually quite sleepy. and as much as i try to focus, my mind wanders off to so many other issues and concerns. a good church day was a day like today. i remembered it was the feast of Christ the King, the end of the liturgical year.
the gospel was lifted from the crucifixion (Lk 23:35-43). i always get goose bumps (and even become teary eyed) at this part
The other, however, rebuking him, said in reply,
"Have you no fear of God,
for you are subject to the same condemnation?
And indeed, we have been condemned justly,
for the sentence we received corresponds to our crimes,
but this man has done nothing criminal."
Then he said,
"Jesus, remember me when you come into your kingdom."
He replied to him,
"Amen, I say to you,
today you will be with me in Paradise."
i truly feel the humility of the 'other thief'. and when Jesus promises him that they will be together in Paradise, i feel the redemption, so undeserved yet so triumphant.
good church days. i hear a conversation between Him and me. i was looking at the image in the church. in prayer, i told Him "You are my King. I am your servant. What pleases my King?"
His message: "I have tasked you to be steward of your Family, your parents. Take care, then, of them, of your company, your employees, your clients, your stakeholders. Of your Partner, of your friendships, of your students. You, I hold responsible."
Whoa. Tall Order. But in reply. "I shall do as my King pleases."